SPECIFICATIONS
---
PRODUCT NAME
FRONTX Headphone Port Internal B2
PRODUCT CODE
CPX090-B2
BAY USAGE
Half of small bay
CONNECTORS
Stereo audio 1/8 inch (3.5 mm) female
1x3 header connector female
CABLE
Stereo audio cable (UL 2835)
Length - 2.5 feet (762 mm)

WIRE ASSIGNMENTS
---
Black: Back Line-Out Left / BL-Out L
Black: Ground / GND / Audio GND / AU GND
Brown: Back Line-Out Right / BL-Out R
Orange: Front Line-Out Left / L-Out L
Black: Ground / GND / Audio GND / AU GND
Red: Front Line-Out Right / L-Out R
The GND (ground) wire is fatter and can be easily recognized.
The 2 ground wires are shorted (connected) internally. It means only 1 ground wire needs to be connected to the ground pin. The other ground wire is for reserved purpose (i.e. no connection required).

HEADER CONNECTION GUIDES
---
Diagram 1: Normally, the line-out and microphone pins are grouped together. You need to find out the pins assigned for GND and Line-Out's (front and back).
Diagram 2: The 2 pairs of pin for front and back Line-Out's are usually connected with jumpers, i.e. the pins are shorted if no front headphone port is installed. You need to remove the jumpers.
Diagram 3: Plug the connector onto the header/pin-out in such that the color coded wires are correctly connected to the appropriate pins.
If only 1 ground (GND) pin is provided in the header, just connect any one of the two ground wires to the GND pin, and leave the other ground wire unconnected.
NC pin (no connection - empty) is not a GND pin. Do not connect the GND wire to NC pin.
You might have to rearrange the wires to match with the pin assignments, or change the header connector if necessary, depending on the layout of the port header.

MOTHERBOARD'S SPEAKER SOCKET
---
Your speakers should be plugged into the motherboard's speaker socket (line-out) located at the back of your PC. Once headphone is plugged on the front panel, your speakers will be automatically disconnected.

INTEL FRONT PANEL AUDIO (IFPA) / AC97
---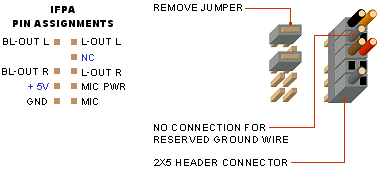 You can connect CPX090-B2 to the IFPA / AC97 header by changing the connector to 2x5, and rearrange the wires to connect to the appropriate pins. Only one GND wire is connected to the GND pin, i.e. no connection required for the reserved GND wire.
As mentioned above, if you want to connect both headphone and microphone ports to the IFPA / AC97 header, please use CPX110.